Sixième Son counts among its team a new asset to continue its expansion and keep up with the dynamic of the European market. With a solid experience in branding, advertising, communication and music, Sietze Rademaker is now a part of the Sixième Son family. An opportunity for us to look back on his experience and how he ended up at Sixième Son…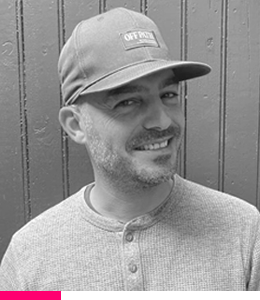 What made you want to work in sonic branding rather than just music?
The relationship between brands and music has always intrigued me. Brands behave more and more like humans and what better emotional connection between humans is there than music. Most of our best memories somehow will have music involved or a song attached to that moment. That's why I like this field so much – music connects us. Both interpersonally as well as brands with people.
What was your sonic branding awakening? (or how did you discover sonic branding?)
I started researching the field of sonic branding around 2007/2008 and realized it was still a relatively undiscovered field of branding for most brands. With most of the brands not having a sonic identity in place, it seemed to me that this field needed more attention from music production companies/specialists, and see how we can align sound with brand (design). I think personally it all started even a few years earlier, when "I'm loving it" from The Neptunes & Justin Timberlake was used for McDonald's and is still in use as their sound logo. It shows how powerful a couple notes can work for a brand – only if you stick to it and it fits well.
How did you end up at Sixième Son?
Well, Sixième Son chose me to be honest, as I was approached over a year ago, but back then still in a good place, until early this year, I decided to follow up on it and go into conversation. This soon resulted in great talks with Laurent and Michael and me starting on June 1st. As I always had my eyes on Sixième Son, this couldn't have come at a better time. Known for so many great sonic identities, I wanted to experience first hand how it's done here and both the work and the people are amazing!!

What skills did you gain from your various past experiences?
I think I've managed to build a fairly thick skin as Sonic Branding is something for the long run. Most companies don't see the urge or priority straight away, so you have to be persistent. And from that persistence, you learn what is important for brands, but also for their agencies (both creative and design). In order to be seen by brands, we have to be in touch with every aspect of the brand. Besides that, it's a lot of knocking on doors and trying to find the people that are responsible for the brand's identity, which can be tricky sometimes.

What did you take up from all those different experiences?
That nothing is final until something is signed, sealed and delivered 😉 No in all honesty, most brands think this is all about music, but a lot of it is actually brand design, only in this case design for the ears. And it has become a lot easier explaining it that way. That's my biggest take out.

What would you say is the best thing about working in sonic branding?
We're still relatively at the forefront of the curve. Most brands don't have a sonic ecosystem in place – where they do have a visual identity in place. As audio as a means of advertising is growing rapidly, the opportunity is ahead of us and that's what I really like. We've only just begun.

What would you say to a brand who is still doubtful about the importance of sonic branding?
I'd say, if your music/sound is aligned with your brand values, your consumers will remember you a lot better. It's something that every research has shown, yet some brands find it hard to take this step. The ones that do or have done it, can attest to this. 50% of all searches in the future (2024) will be done by voice – so you better be ready as a brand to have a recognizable sound if you want to stand out.

If you had to sum up your career in one song/album, what would it be?
Fleetwood Mac / Dreams

Among Sixième Son's work, what are your favorite creations and why?
I think Etihad, FC Barcelona, Genelec and SNCF are amongst my favorites. They are very well known around the world and so well executed in every way – the sounds really have become the brands.
You started June 1st, how's the job been so far?
It's been amazing. Everyone has been really welcoming and nice and it's great to see how Sixième Son works and the quality they deliver. On top of that we landed a big UK client in my first month, which will hopefully be announced soon…