Audio assets prove 8.53x more likely to perform but only comprise of 8% of brand assets (Ipsos).
Great creative captures attention and encodes memories that lead consumers to buy particular brands. Audio brand assets provide marketers with a full set of tools. However, which audio brand assets rank strongest in getting brand attention (e.g. logos, colors, taglines, celebrities, characters, music) is not well understood.
That's why we were excited to read the 2020 results of Ipsos' Power of You Study that measured brand cues' relative impact on video ad performance.
Audio brand assets outperform borrowed interest. Sonic brand cues emerge on top.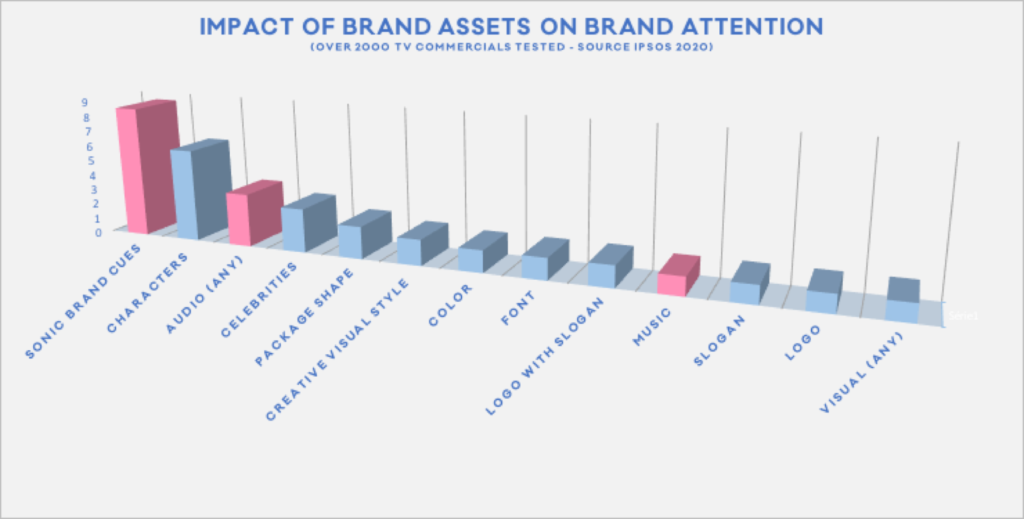 The presence of audio brand assets strongly links to positive branded attention, more than talking about the brand. Brand assets that leverage the power of the brand, such as characters and sonic brand cues, deliver more attention than assets that are borrowed from wider culture like celebrities and popular songs. Creative with sonic brand cues proved far more likely to be high performing, with ads that use sonic brand cues rising to the top at a whopping 8.53x more likely to be high performing.
Yet sonic brand cues comprise only 8% of assets, leading Ipsos to posit that audio is a huge "missed opportunity" for brands. This suggests brands can take the opportunity of branded audio identities to improve audience attention of their video creative.
How about those celebs?

Using celebrities to promote a product is commonplace for marketers. Hoping that consumers will develop a positive correlation between the celebrity and the brand. Ipsos' data suggests that celebrities score pretty well on stronger branded attention. But their power pales when measured against brand characters or mascots. Ads that use brand characters rank right below branded music, at 6.1x more likely to be high performing. Suggesting that marketers should consider reinvesting their celebrity money elsewhere.
Brands may also find characters easier to manage and control: they do not represent multiple brands. They likely won't post something untoward on social media and can change and evolve with a brand's creative style and story.
Takeaways for marketers

Marketers who are investing in video need to evolve their toolkits with a focus on assets that improve performance. Sonic branding systems, such as sonic logos, are long-term brand assets that last and can evolve as the brand refocuses its positioning without sacrificing the brand equity that has been built.
During this health crisis, brands can communicate support and consumer empathy by introducing their own music. Which can seed the beginnings of a long-term, multi-sensory brand relationship. Music provides the opportunity to allow brands to reinvent themselves, conveying emotion and building brand engagement.
In conclusion, Ipsos points to a strong relationship with sonic and branded attention. Sonic enables another sensory cue for the brand to leverage and is currently an untapped asset for most brands.
The study is even more relevant during these tiring times ­– the power of sound in this challenging and changing environment.